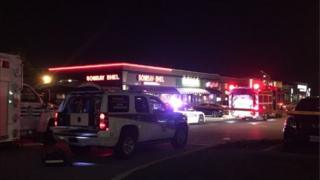 A homemade bomb has exploded at a restaurant in Mississauga, Canada's sixth largest city, injuring 15 people.
Local police say two suspects entered the Bombay Bhel restaurant in the city late on Thursday and detonated the improvised explosive device.
Ambulance services said that three of the 15 people taken to hospital had "critical blast injuries".
Two male suspects fled the scene immediately after the explosion in the city.
Peel Regional Police said they had received a call about the incident at 22:32 local time (02:32 GMT).
Police issued CCTV footage of the two suspects, describing them both as men around 5ft 10 in height with light or fair skin, and appealing for help identifying them.
One man was described as "stocky" and in his mid-20s, while the other was of thin build. Both wore blue jeans and dark hoodies, and had covered their faces.
The motive for the attack is unknown.
Canadian broadcaster CBC reported a heavy police presence, complete with "tactical teams" – and said an officer on the scene could not say whether there was a further threat to public safety.
Mississauga, a large city on the shore of Lake Ontario, borders the larger city of Toronto and is home to Toronto Pearson International Airport.
Mississauga explosion: Suspects 'detonate IED' in restaurant