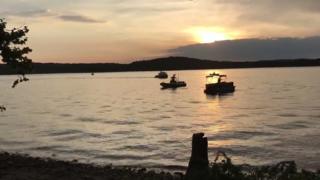 Seventeen people have died after an amphibious "duck boat" carrying tourists sank in stormy weather in the US state of Missouri, police said.
Stone County Sheriff Doug Rader said all bodies have now been recovered from Thursday's accident.
The vessel was carrying 31 people when it overturned on Table Rock Lake, a popular tourist attraction near the town of Branson.
The captain of the amphibious boat survived, but the driver did not.
Emergency crews responded to the incident shortly after 19:00 (00:00 GMT) on Thursday.
Sheriff Rader could not say whether passengers were wearing life vests at the time of the capsizing, or if the boat's windows were open.
"This is a huge joint investigation between all of us, working to figure out what did happen," Sheriff Rader said, adding that officials are still in "recovery mode" to locate the missing victims.
Divers have located the sunken boat, Sheriff Rader said – which sank in 40ft (12m) of water before rolling to a final depth of 80ft – and they will likely recover it later today.
Missouri Governor Mike Parson said at the news conference that "now is just a time for thoughts and prayers". He confirmed that his staff had been in touch with the president's staff.
A spokeswoman for the Cox Medical Center in Branson, Brandei Clifton, said that four adults and three children had arrived at the hospital shortly after the incident.
It happened as a line of powerful thunderstorms rolled through the American Midwest, uprooting trees and downing power lines and prompting a weather warning.
US President Donald Trump offered his "deepest sympathies" in a Friday morning tweet.
Video footage shot by a witness on shore showed two duck boats struggling through choppy waters and spray. One of the boats made it to shore but the other was driven back by the wind and eventually overwhelmed.
Sheriff Rader said one of his deputies was on board at the time and had helped to rescue some of the passengers.
"There was some heavy wind. It was having problems through the wind," Mr Rader told reporters. "They were coming back toward land. There was actually two ducks. The first one made it out. The second one didn't."
Are duck boats dangerous?
There are hundreds of so-called duck boats in use around the world. The amphibious vehicles are popular with tourists and have been providing tours for decades.
While duck boats have been involved in a number of fatal accidents over the years, such incidents are relatively rare. In the past two decades, more fatalities have been recorded in connection with golf courses than duck boats, according to US statistics.
In 2016, a woman died when her motorcycle was struck by a duck boat in Boston, leading to a review of the safety laws around amphibious vehicles.
A year earlier, five students were killed and dozens injured when an amphibious vehicle collided with a bus in Seattle. The NTSB later published a report stating that one of the vehicle's axles had "sheared off".
In 2013, a tour operator in the UK had its tours suspended after one of its amphibious vessels caught fire.
The most serious incident was in 1999, when a duck boat listed and sank just minutes after entering Lake Hamilton in Arkansas. Thirteen people were killed, including three children, after they became trapped beneath the vehicle's canopy. The cause was later reported to be "uncontrolled flooding" due to a loose part.
What is a duck boat?
The vehicles used for sightseeing tours, such as the duck boat that sank in Branson, Missouri, are based on a design used during World War Two to transport personnel and supplies over land and water – known as the DUKW.
The DUKW, a six-wheel-drive amphibious truck, was first made in the US in the mid-1940s to deliver people and materials ashore where no port facilities existed.
Some 21,000 DUKWs were produced for use during World War Two. Many served on D-Day and in the Normandy landings, where 40% of supplies that landed on the beaches were carried by DUKWs.
DUKWs remained in service with the British and other armies into the 1970s, and were later adapted for use by tour operators.
Did you witness the incident? Were you on one of the "duck boats"? If you feel able to do so, please share your experiences by emailing haveyoursay@bbc.co.uk.
Please include a contact number if you are willing to speak to a BBC journalist. You can also contact us in the following ways:
Missouri duck boat capsizes killing 17 people