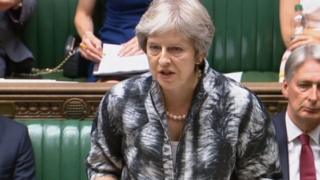 Members of Parliament are to vote on whether to start their summer recess this Thursday, instead of next week.
The government has tabled a motion to bring forward the summer break to begin five days earlier than planned. MPs will vote on the motion on Tuesday.
It comes as MPs have been debating changes to the prime minister's plans for leaving the EU.
Labour's Angela Rayner called the motion "pathetic" and said the Tories were frightened of their own MPs.
Labour backbencher David Lammy said it was "a government that has run out of ideas".
Some Conservative backbenchers said they would vote against the motion including former ministers Nicholas Soames and Nick Boles.
The Tory chair of the Health Select Committee, Sarah Wollaston, also said she was opposed to an early recess – adding that her committee would be sitting as usual next Tuesday.
MPs will return to the Commons on 4 September.
MPs to vote on early summer recess}