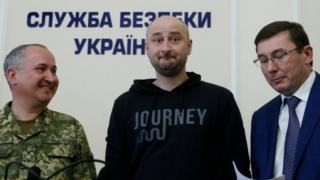 Russian journalist Arkady Babchenko, widely reported to have been assassinated in Kiev on Tuesday, is alive and well.
Mr Babchenko, a high-profile critic of the Kremlin, appeared at a press conference on Ukrainian TV on Wednesday.
The head of Ukraine's security services, Vasyl Hrytsak, told reporters the "murder" had been staged to expose Russian agents.
"According to information received by the Ukrainian security service, the killing of Russian journalist Arkady Babchenko was ordered by the Russian security services themselves," Mr Hrytsak said.
Mr Babchenko was reportedly found by his wife bleeding at the entrance to his block of flats, shot several times in the back, and died in an ambulance.
The journalist apparently did not tell his wife that the murder had been staged. "Special apologies to my wife," he said. It was not clear exactly how the fake murder was staged.
Police said that they had made one arrest in connection with the extraordinary operation.
A well-known Kremlin critic, Mr Babchenko stood in unofficial elections organised by the opposition in 2012 and denounced Russia's actions in Syria and eastern Ukraine.
He fled Russia in 2017 after receiving death threats over a post he made on social media.
'Murdered' Russian journalist Arkady Babchenko is alive