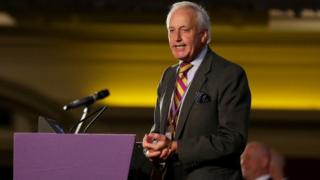 Neil Hamilton has been ousted as UKIP group leader in the Welsh Assembly.
The former Conservative MP has been replaced at the helm by Caroline Jones.
It comes after a day of wrangling over the Mid and West Wales AM's future at the helm of the group, and after reports of a heated meeting of the party's AMs on Wednesday.
Mr Hamilton became leader of the group after he ousted Nathan Gill following the 2016 assembly election.
Sources told BBC Wales that a heated meeting of UKIP AMs took place on Wednesday, which Gareth Bennett was said to have left before it ended when it became apparent that a leadership challenge was on the cards.
There were rumours of a breakaway group – backed by Ms Jones, David Rowlands and Michelle Brown – and it initially appeared that Mr Hamilton's position as leader of the five-strong group was safe by mid-Thursday afternoon.
But that unravelled after news emerged of a vote of AMs which installed Ms Jones as leader.
Tensions in the group recently emerged after Mr Bennett backed a decision by the assembly's standards committee on which he sits to recommend Ms Brown be excluded from the assembly for a week over a racial slur she used in a private phone call.
Ms Brown said she was "not likely to take any lessons at all on political correctness, or conduct, from Gareth Bennett".
Another clash came over Mr Hamilton's recommendation that Mr Bennett be the group's representative on UKIP's national executive committee.
Ms Brown, Ms Jones and Mr Rowlands objected, and outvoted their two colleagues with Ms Brown taking over the role.
Neil Hamilton ousted as UKIP leader in Welsh Assembly}