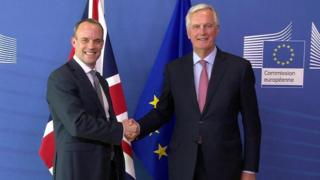 The UK's new Brexit secretary vowed to "intensify" talks in Brussels after his first meeting with EU chief negotiator Michel Barnier.
Mr Raab took over from David Davis, who resigned in protest at Theresa May's post-Brexit trade plans.
He said it was "vital" make progress on the proposals in Mrs May's White Paper.
The MP – who was a leading figure in the 2016 campaign to leave the EU – vowed to tackle talks with "renewed energy, vigour and vim".
Mr Barnier said it was a "matter of urgency" to agree on a "backstop" plan to prevent a hard border in Northern Ireland if no deal is agreed – and said a "close partnership" on security was "more important than ever given the geopolitical context".
Their meeting comes as the European Commission is instructing other EU states to prepare for a no-deal Brexit.
The commission paper warns that failure to reach a deal would have a considerable impact on European business and citizens.
Possible consequences, the paper says, include disruption to the aviation industry and goods from the UK being subject to custom checks.
Acting Cabinet Secretary Sir Mark Sedwill told MPs: "We wouldn't want any of our European partners to think that we aren't well prepared enough that it becomes a negotiating card on their side of the table."
Speaking to MPs before setting off for Brussels, Mr Raab said he hoped Mr Barnier would "fully support" the proposals for post-Brexit trade with the EU in the government's White Paper.
But he added the UK was stepping up preparations for a "no deal" Brexit and would shortly be publishing advice for businesses on how to cope with it to minimise "disruption".
Labour's shadow Brexit Secretary Sir Keir Starmer challenged Mr Raab to say whether he would "face down" Conservative MPs threatening to block a deal which does not meet their demands.
Mr Raab sidestepped the question and insisted his focus was on "narrowing the differences" and securing a "win-win deal" which was good for both the UK and European countries.
Acting Cabinet Secretary Sir Mark Sedwill told a committee of MPs the civil service had "confidence" in its "no deal" planning.
"We wouldn't want any of our European partners to think that we aren't well prepared enough that it becomes a negotiating card on their side of the table," he added.
Taoiseach (Irish prime minister) Leo Varadkar has said his government is also making contingency plans for "the unlikely event of a no-deal hard Brexit".
Mr Varadkar said that – even if there is a deal – Ireland will need 1,000 new customs officers and veterinary inspectors to deal with changes in trade rules with the UK.
In the UK, the government has advised all its departments to have fully planned contingencies in place in the event of the UK withdrawing from the EU without an agreement.
However the government watchdog, the National Audit Office, has warned that, in the case of one department, there is "still much to do".
On Thursday, Theresa May will be making her first visit to the Irish border since the Brexit referendum.
No 10 says the visit will "reaffirm her commitment to a Brexit that avoids a hard border and protects the Belfast Agreement".
The UK is due to leave the EU on 29 March 2019.
But the two sides have yet to agree how their final relationship will work, with key issues around cross-border trade unresolved.
Mr Raab's trip to Brussels comes with debate raging within the Conservative Party about what Brexit should look like.
A baptism of fire
By Katya Adler, the BBC's Europe Editor
It will be quite a baptism of fire for the new Brexit secretary.
He will be greeted here in Brussels with a barrage of questions.
First and foremost amid all the political turmoil in Westminster: What exactly is the UK's Brexit negotiating position now?
The EU also has a strong message for Dominic Raab.
Work with us, they will say, to finish the UK's exit deal – the so-called Withdrawal Agreement – otherwise the chances are rising of the UK crashing out of the EU without a deal come March next year.
On Wednesday, former Foreign Secretary Boris Johnson – who also quit over the proposals presented to the cabinet at Chequers – used his resignation speech to accuse Theresa May of "dithering" over the UK's strategy for leaving the EU.
"It is not too late to save Brexit", he said, calling for the government to "change tack".
Former Remain supporters, on the other hand, were furious when the government changed its Customs Bill this week to comply with the demands of a Eurosceptic group of Tory MPs.
The EU says it will analyse the Chequers proposals, which were set out in full in a White Paper, before coming up with a response.
New Brexit Secretary Dominic Raab vows to 'intensify' talks}