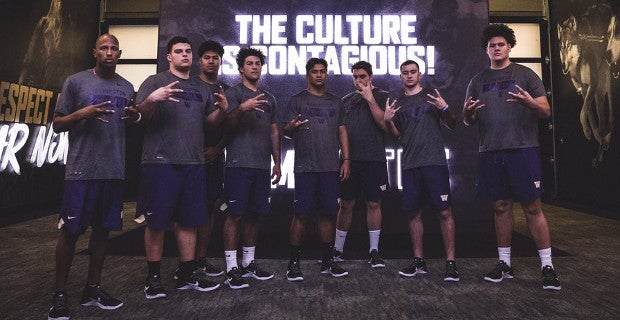 With spring football roughly 10 days away, it's time to start really ramping up the UW Football talk. Now that the Combine Day is over with too, the coaches have their baseline tests and measurements to give them one sense of how productive the players were in their off-season.
But then there's the newcomers, the junior college transfers and true freshmen early enrollees. They've been on campus roughly 10 weeks and just recently were publicly given their numbers for the season.
There's also a couple of spring cleaning notes. Alex Cook has officially moved from receiver to defensive back. He will wear number 11, while Brandon McKinney will wear the 23 recently vacated by departing senior Jordan Miller.
Benning Potoa'e is officially listed as a defensive lineman instead of an outside linebacker. That may be just cosmetic, so we'll see there's any actual change in his role along the UW front seven in less than a couple weeks.
In other number changes, redshirt freshman LB MJ Tafisi is changing from 50 to 53.
Here are the numbers for the newcomers, with their background information included.