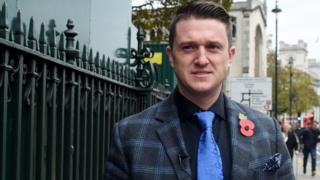 UKIP should "get rid" of leader Gerard Batten for appointing Tommy Robinson as an adviser, says Nigel Farage.
Hiring the ex-English Defence League leader "goes against all the things I did as [UKIP] leader", Mr Farage said.
He accused Mr Batten of "dragging us in a shameful direction" – some UKIP members have opposed allowing Mr Robinson to join the party.
Mr Batten is the fourth person to lead UKIP since Mr Farage quit in the wake of the 2016 EU referendum.
Mr Robinson, whose real name is Stephen Yaxley-Lennon, will advise on rape gangs and prison reform.
Mr Batten said on Thursday he "looked forward to working with him" and that he would be advising him on subjects about which "he has great knowledge".
On Sunday, UKIP's NEC deferred a decision on allowing members to vote on Mr Robinson joining the party.
The decision was postponed until after 29 March 2019 – the day the UK is due to leave the EU – with the NEC arguing the party should be focused on Brexit.
Currently, UKIP has a blanket ban on allowing former members of the British National Party and the EDL from joining the party – meaning Mr Robinson is barred.
Mr Batten added: "It is not necessary for him to be a party member in order to assist me in this role. I am looking forward to working with him".
But Mr Farage told BBC Radio 4's Today programme: "It goes against all the things I did as leader to say we will talk about immigration, we will talk about the extreme forms of Islam. But, we will do it as a non-racist, non-sectarian party.
"This blows a hole in all of that."
Asked if it spelled the end for UKIP, he added: "Well, I haven't given up yet.
"I will be writing to the National Executive Committee of the party today and urging that we have a vote of no confidence in Gerard Batten as leader. That we get rid of him.
"We can have one last go at getting rid of somebody who as leader is dragging us in a shameful direction."
Last week, UKIP members of the Welsh Assembly said Mr Robinson should not be allowed to join.
In May, Mr Robinson, 35, was jailed for 13 months for contempt of court, which sparked a series of #freeTommy protests.
His conviction was later quashed over procedural concerns and the case has now been referred to the attorney general.
Nigel Farage: Ditch UKIP leader for hiring Tommy Robinson}