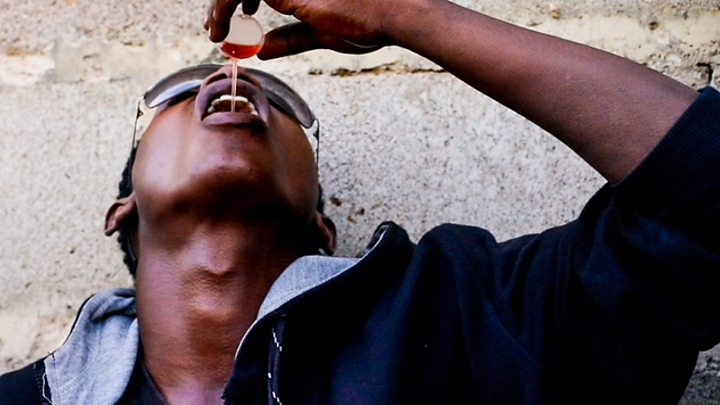 Nigeria's authorities have shut down three leading drugs companies after a BBC investigation into addiction to cough syrup containing codeine.
The National Agency for Food and Drug Administration and Control (Nafdac) said it shut the firms for failing to fully co-operate with its inspectors.
The companies have not yet commented.
The BBC investigation showed that the syrup was being sold on the black market, and was being used by young Nigerians to get high.
It recorded figures in the pharmaceutical industry selling the drug illegally.
Nafdac director Mojisola Adeyeye said in statement that Peace Standard Pharmaceuticals, Bioraj Pharmaceuticals and Emzor Pharmaceuticals were shut because of "apparent resistance to provide needed documents during our inspection".
The firms could reopen at a later date, depending on "the level of co-operation that is shown during the comprehensive investigation" by Nafdac, the statement added.
The agency banned the production and import of cough syrup containing codeine on 1 May.
The ban came the day after the BBC's undercover team caught one executive for Emzor Pharmaceuticals boasting he could sell "one million cartons" in a week on the black market.
Emzor denied links to the black market and said it had dismissed the employee and launched a full investigation.
Bioraj Pharmaceuticals also denied any wrongdoing, saying it only sold cough syrup legally and said it had suspended an employee and launched an investigation.
Peace Standard Pharmaceuticals denied that its pharmacist showed undercover BBC reporters how to subvert the system and insisted it only supply accredited outlets.
The addictive cough syrup was legal, but it was against the law to sell it to people without a doctor's prescription or those who did not have a pharmaceutical licence.
The Nigerian Senate estimates that as many as three million bottles of codeine syrup are drunk every single day in just two states, Kano and Jigawa.
Codeine cough syrup – the scale of the problem
Codeine is a pain killer but also an addictive opioid. Taken in excess, it can cause schizophrenia and organ failure
Codeine syrup is commonly mixed with soft drinks and often consumed by students
The codeine is imported, but the syrup is made in Nigeria by more than 20 pharmaceutical companies
Nigeria's drug enforcement agency is fighting this epidemic. In a recent raid, it seized 24,000 bottles of codeine syrup from a single lorry in Katsina
Codeine syrup addiction is a problem across Africa, with reports of addiction in Kenya, Ghana, Niger, and Chad
In 2016, India banned multiple brands of codeine cough syrup following reports of addition
Nigerian authorities shut three cough syrup manufacturers