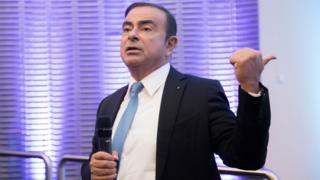 Japanese car giant Nissan has proposed removing chairman Carlos Ghosn from his post over financial misconduct claims.
The firm said it had been conducting an internal investigation for several months which showed Mr Ghosn had been under-reporting his compensation.
"Numerous other significant acts of misconduct" including "personal use of company assets", were also found.
"Nissan deeply apologises for causing great concern to our shareholders and stakeholders," the company added.
The firm said it had been providing information to the Japanese Public Prosecutors Office and would continue to do so.
Nissan said it also planned to oust a senior executive Greg Kelly who had been "deeply involved" in the misconduct.
As well as being chairman of Nissan – which owns Britain's biggest car plant in Sunderland – Mr Ghosn is also chairman and chief executive of Renault and chairman of Mitsubishi Motors.
In addition, he is chairman and chief executive of the Renault-Nissan-Mitsubishi Motors strategic alliance.
---
Analysis by Theo Leggett, business correspondent
Carlos Ghosn is a towering figure in the motor industry. He has been credited with turning around both Renault and Nissan, before going on to become the linchpin of the Renault-Nissan Alliance. That Franco-Japanese axis, which also now includes Mitsubishi, is one of the world's biggest carmakers.
The question is what happens now. Mr Ghosn had already begun shedding some of his responsibilities – he stepped down as chief executive of Nissan last year, and recently offloaded some day to day responsibilities at Renault as well. But he was expected to remain chief executive of Renault and to continue in overall charge of the Alliance for the next few years.
Today's announcements seem to undermine that strategy. It's not clear what Renault will now do. But plans for an orderly succession – and potentially the entire future of the rather unwieldy Renault-Nissan-Mitsubishi structure – may well have been thrown wide open.
---
Nissan chief to be ousted for 'misconduct'