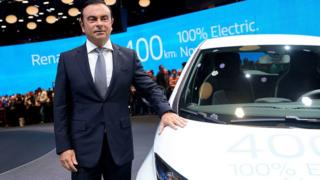 Nissan shares were down more than 6% in early Tokyo trade, following the arrest of the firm's chairman Carlos Ghosn.
Mr Ghosn, who also heads up the Japanese-French alliance Renault-Nissan-Mitsubishi, is being held over allegations of financial misconduct.
Nissan's chief executive has claimed he under-reported his pay package, but gave no further details.
Mr Ghosn is expected to be fired from the company after a board meeting on Thursday.
Nissan is the world's sixth-largest carmaker and its site in Sunderland is the UK's biggest car plant.
Shares in Mitsubishi were down more than 7% in early Tokyo trade. Renault's shares lost more than than 8% in Europe.
Nissan shares fall on Ghosn arrest}