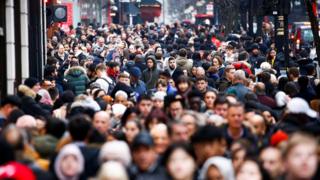 The UK will fall into recession next year if there is a no-deal Brexit, the country's fiscal watchdog has said.
The Office for Budget Responsibility (OBR) said economic growth would fall by 2% by the end of 2020 if it left the bloc without an agreement.
It said this would push up public sector borrowing by £30bn.
Fears of a no-deal outcome have risen recently, after both Tory leadership contenders said they would be willing to leave the EU without a deal.
The UK is set to leave the European Union on 31 October.
In its first assessment of the economic impact of a no-deal scenario, the OBR said the UK economy would contract in 2020 before recovering in 2021.
This would come as tariffs of 4% were imposed on goods traded with the EU – up from zero currently – although it does not expect there to be disruption at the border.
In this scenario, "heightened uncertainty and declining confidence" would deter investment, while higher trade barriers with the EU would "weigh on exports".
"Together, these push the economy into recession, with asset prices and the pound falling sharply," it said.
No-deal Brexit will cause UK recession, says fiscal watchdog}