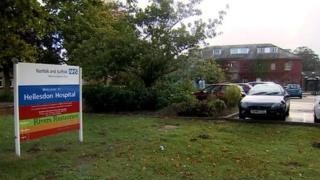 The UK's worst performing mental health trust has been rated inadequate for a third time, with patients trying to take their own lives waiting for care.
Norfolk and Suffolk NHS Foundation Trust (NSFT) had unsafe acute wards and was seriously understaffed.
The Care Quality Commission (CQC) said bosses repeatedly failed to protect patients and a charity has called for the government to intervene.
NSFT said it was disappointed but "determined to get things right".
Inspectors found patients left unsupervised in segregation, a high proportion of urgent referrals downgraded unsafely and that unfilled shifts led to 139 incidents in six months.
However, adolescent and child mental health wards were rated outstanding.
NSFT is the only mental health trust in the country to have been put into special measures, a step first taken in February 2015. The trust came out of special measures in October 2016, only to have that status imposed again a year later.
Paul Farmer, from mental health charity Mind, said: "When a trust fails and then fails again, you have to ask questions about what action needs to be taken to change that."
He said the options available to a health secretary included having parts of the service taken over by another mental health trust.
'Inadequate, poor and shocking'
Mearl Brown, from Cromer, sought help from the NSFT after his 19-year-old son Nyall first attempted to take his own life in January.
He said the care was disorganised and at one point the Brown family were advised to seek private medical help for their son.
Nyall went on to take his own life in May.
Mr Brown described the family's dealings with the trust as "inadequate, poor and shocking".
The CQC's lead for mental health, Dr Paul Lelliott, said: "Managers have not ensured that when things go wrong, they learn and share lessons to reduce the likelihood of the same thing happening again."
He said issues first raised in 2014 had still not been fully addressed.
"The trust leadership team has not taken action at the pace required to bring about sustained improvement and to resolve failings in safety," he said.
The inspection body said it had asked NHS Improvement to support the trust to make immediate changes to keep patients safe, and would be monitoring.
NSFT was rated inadequate in the areas of safety, management and response.
It required improvement over the effectiveness of its services but was found to be good at being compassionate in its care for patients.
Antek Lejk, the trust's chief executive, said: "Our priorities now will be to resolve ongoing issues around access to services, waiting lists, care planning and staffing levels, while also making sure we have the right systems in place to ensure patient safety at all times."
Labour MP Clive Lewis, whose constituency is in Norwich, said the safety risks and problems at the trust had been known about since at least 2014.
"This has become a national disgrace. We are looking at a national and local system-wide failure of governance, commissioning, regulation and inspection," he said.
"Unless we change course, I know exactly what's coming next. Senior trust board members will mouth the same platitudes about lessons being learnt and plans for change – even though those same people have long track records of failure in various parts of the local NHS.
Mr Lewis said the CQC had "the power to put the trust into Special Administration and get rid of this board".
Lib Dem MP Norman Lamb, who was a health minister in the coalition government and whose constituency is also in Norfolk, said it was "totally intolerable for families and individuals affected".
A Department of Health and Social Care spokesperson said: "NHS Improvement is providing intensive support to Norfolk and Suffolk NHS Foundation Trust to improve patient safety and deliver sustainable improvements. The situation is being monitored closely and we expect to see progress made in the coming weeks."
Analysis
By Sophie Hutchinson, BBC News Health Correspondent
Today's report by the Care Quality Commission catalogues a mountain of failings.
It says significant concerns raised back in 2014 had still not been addressed and that in some cases the trust had created new risks.
This is the third inspection in three years that the trust has failed and it is in unprecedented territory as the only mental health trust to have been placed in special measures.
Now there are calls for radical and urgent action and for it to be placed in special administration.
That's the NHS's so-called failure regime in which some parts of the trust or all of the trust are taken over.
It would require the intervention of the health secretary. It's a measure of last resort only used twice before, but many mental health experts and local campaigners feel it is the only way to make these services safe.
Norfolk and Suffolk NHS Foundation Trust remains 'inadequate'