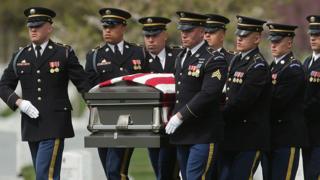 North Korean officials have failed to turn up for talks with a US team on the repatriation of the remains of American soldiers killed in the Korean war.
Returning the remains was a commitment from the 12 June summit between Kim Jong-un and Donald Trump in Singapore.
The talks had been expected in the demilitarised zone on Thursday. Reports say North Korea is now asking for higher-level talks for Sunday.
An estimated 30,000 US soldiers died in the 1950-53 Korean war.
There are about 7,700 US soldiers classified as missing in action from the war.
Shortly after the apparent setback was reported, President Trump tweeted the translation of a letter he had received from Mr Kim, in which the North Korean leader said: "I deeply appreciate the energetic and extraordinary efforts made by Your Excellency Mr President."
Mr Trump said the letter from Mr Kim (dated 6 July), was "a very nice note".
Last week, North Korea accused the US of using a "gangster-like" tactics to push it towards nuclear disarmament after a fresh round of high-level talks.
A statement, by an unnamed foreign ministry official, gave a starkly different account from one provided just hours before by US Secretary of State Mike Pompeo, who attended the talks.
Mr Pompeo had said progress was made during his two-day visit to Pyongyang.
In another development on Thursday, the US accused North Korea of violating a UN sanctions cap on refined oil products.
In December, the UN Security Council limited such exports to North Korea at 500,000 barrels a year.
Thursday's planned meeting – what happened?
It had been expected at the inter-Korean truce village of Panmunjom.
North Korean and US teams, as well as UN officials, had been due to discuss the details of repatriation.
Mr Kim had agreed during the summit with President Trump to recover "POW/MIA remains, including the immediate repatriation of those already identified". The agreement reportedly covered the remains of some 200 American soldiers.
The US military has since announced that 100 wooden coffins have been moved to the inter-Korean border in preparation.
But North Korea's delegation failed show up. Pyongyang has asked the UN Command Armistice Commission to upgrade the talks to a higher level to include a US general, South Korea's foreign ministry said.
North Korea proposed to reschedule the meeting for Sunday.
The fact that North Korea seem to be dragging its feet on this issue fuels already growing doubts among President Trump's critics about whether the Singapore summit was a success or simply a publicity stunt for Mr Kim, the BBC's Cindy Sui in Seoul reports.
There is speculation that North Korea may also want payment for the return of the remains, our correspondent adds.
Between 1996 and 2005, some 33 recovery operations were conducted in North Korea which saw 200 sets of remains returned.
However, recovery efforts were suspended when the relationship between both countries worsened, as the North began the advancement of its nuclear programme.
North Korea fails to attend talks on repatriation of US war dead