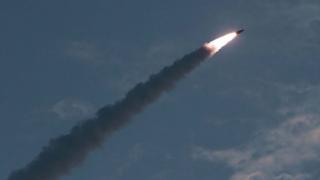 North Korea has fired two short-range ballistic missiles off its east coast, according to South Korea's military, the second such launch in a week.
The two missiles were launched from the Wonsan area early on Wednesday.
Last week's launch was the first such provocation since US President Donald Trump and North Korean leader Kim Jong-un met in June.
The North called that launch a "solemn warning" to Seoul over its planned military exercises with Washington.
The North has previously expressed anger that the annual drills will go ahead next month- an event it sees as preparation for war.
What happened on Wednesday?
The missiles flew 250km (155 miles) and reached a height of 30km before landing in the Sea of Japan, also known as the East Sea.
JCS said the missiles were a "different type from previous models". It added that it was monitoring the situation in case of additional launches.
Japan's Ministry of Defence said that no ballistic missiles had reached its territory.
Last week, North Korea fired two short range missiles, according to the JCS, with one travelling about 690km (428 miles), reaching an altitude of 50km, before falling into the sea.
That launch was the first since US President Donald Trump and North Korean leader Kim Jong-un had an impromptu meeting in June at the demilitarised zone that divides the two Koreas, where they agreed to restart denuclearisation talks.
Why is this happening now?
The launches come after Pyongyang voiced anger over planned military exercises between South Korea and the US, an annual event which the allies have refused to cancel.
A top South Korean official said last month the drills would go ahead as planned but would largely involve computer simulations and not troops in the field – a scaling back of plans.
The North has warned the exercises could affect the resumption of denuclearisation talks, which US Secretary of State Mike Pompeo had said would likely start in July.
What's the latest on US – North Korea relations?
After the impromptu meeting between Mr Trump and Mr Kim in June there have been no further public meetings between US and North Korean officials.
Last year, Mr Kim said North Korea would stop nuclear testing and would no longer launch intercontinental ballistic missiles.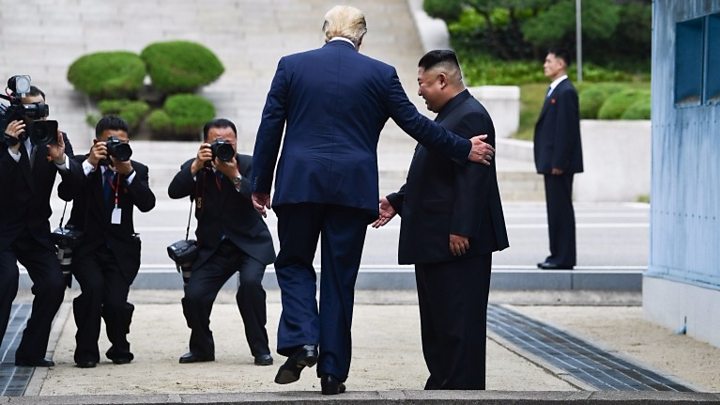 Nuclear activity appears to be continuing, however, and satellite images of North Korea's main nuclear site last month showed movement, suggesting the country could be reprocessing radioactive material into bomb fuel.
Pyongyang also continues to demonstrate its abilities to develop new weapons despite strict economic sanctions.
North Korea 'fires two ballistic missiles'