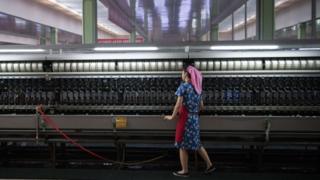 Sexual abuse against women in North Korea is so "common" it has become part of ordinary life, a report has claimed.
Human Rights Watch based the report on interviews with 62 North Koreans who fled the country. They gave detailed accounts of rape and sexual abuse.
HRW said it revealed a culture of open, unaddressed abuse, particularly from men in positions of power.
One woman, who had been sexually assaulted many times, said officials considered women to be "sex toys".
"Sometimes, out of nowhere, you cry at night and don't know why," Oh Jung-hee, a former trader in her 40s told Human Rights Watch (HRW).
Another woman, a former farmer in her 40s who was caught fleeing North Korea, also detailed abuse she faced from a police official who was questioning her in a pre-trial detention facility.
"My life was in his hands, so I did everything he wanted. How could I do anything else?" said Park Young-hee.
HRW called for North Korea to "acknowledge the problem of sexual violence" and ensure that it was "treated as a crime".
A UN Report in 2014 had earlier concluded that "systematic, widespread and gross human rights violations" had been committed by the North Korean government.
It added that forced abortion, rape and sexual violence had been carried out in prisons or in detention.
North Korea: Sexual violence against women 'common', report finds