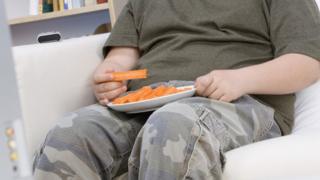 One in 25 children in England aged 10 or 11 are severely obese, new analysis has found.
Height and weight measurements show the number of children classed as severely overweight rose from 15,000 in reception to 22,000 by the time they leave primary school.
The Local Government Association, which analysed Public Health England figures, said action was urgently needed.
The government insisted its childhood obesity plan was "comprehensive".
The weight and height of all children in England is measured when they start and leave primary school, under the government's national child measurement programme.
Figures from 2016-17 showed that for children in reception – aged four or five – about 1 in 40 (15,000 out of 629,000), was classed as severely obese.
By the time they were aged 10 and 11, more than one in 25 children (22,000 out of 556,000) were in this category.
This is the first time the national child measurement programme data has included the severely obese category.
Health problems
Obesity in children is measured differently from adults.
A BMI of more than 40 means adults are severely obese, but in children it is based on reference growth charts for boys and girls.
The Local Government Association warned that obese children risked having their years of healthy adult life cut short by a host of health problems, including diabetes, cancer and heart disease.
Izzi Seccombe, chairwoman of the LGA's community wellbeing board, said: "These new figures on severely obese children, who are in the most critical overweight category, are a further worrying wake-up call for urgent joined-up action."
She said the UK was the most obese nation in western Europe, adding that "today's obese children will become tomorrow's obese adults" unless the problem is tackled.
The government launched its childhood obesity plan in England in 2016.
It introduced a tax on sugary drinks, which came into force on 1 April this year, with the income raised being invested in school sports and breakfast clubs.
A Department of Health spokesman said: "Our childhood obesity plan is among the most comprehensive in the world.
"However, we have always been very clear that this is the not the final word on obesity, and we have not ruled out further action if the right results are not seen."
One in 25 children aged 10 or 11 'severely obese'