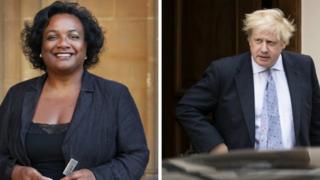 Online trolls who intimidate election candidates or campaigners could be barred from public office under government proposals being considered.
Extreme intimidation cases are already punishable with a jail sentence.
A 2017 parliamentary report highlighted the "significant factor" of social media abuse of candidates in that year's general election.
Constitution Minister Chloe Smith said intimidation was putting "talented people" off standing for election.
She added that the measures being consulted on would "protect voters, candidates and campaigners so they can make their choice at the ballot box or stand for public service without fear of being victims of misinformation or abuse".
The length of the ban on convicted abusers standing for or holding public office would be a part of the consultation, a Cabinet Office spokeswoman said.
A joint analysis of tweets in the run-up to the election in 2017, by the University of Sheffield and BuzzFeed News. found that male Conservative candidates received the highest percentage of abuse on Twitter.
Amnesty International had carried out a separate analysis of the accounts of 177 female MPs in the six months leading up to the election and found that Labour's Diane Abbott received almost half (45.1%) of all abusive tweets that were sent to female MPs.
Analysis
By BBC political correspondent Alex Forsyth
In reality this may not prevent swathes of people from standing for office who otherwise would have.
There are existing rules which stop those convicted of crimes carrying a certain sentence from standing as an MP or local councillor.
In addition, the vetting processes of political parties should – in theory at least – stop unsuitable candidates from being selected.
But there has been pressure for ministers to do something to tackle online trolls who target people in public office.
After last year's general Election, several MPs reported some of the worst abuse and harassment that they'd experienced.
There was even a debate in Parliament during which men and women from all political parties recounted their experience of sexist and racist comments, graphic language and even death threats.
No doubt the government is keen to be seen to be taking this seriously.
Currently, to stand in a general election, you must be at least 18 years old and either a British citizen, a citizen of the Republic of Ireland or an eligible Commonwealth citizen.
Certain people are disqualified from becoming an MP including:
civil servants
members of police forces
members of the armed forces
judges
a person who has been convicted of an offence and has been detained for more than a year
peers who can sit in the House of Lords
bishops of the Church of England who are entitled to sit in the House of Lords
someone currently subject to a bankruptcy restrictions order
Online trolls may be barred from being MP or councillor}