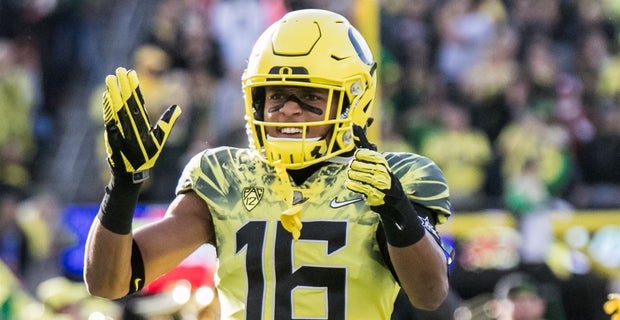 It's easy to get overlooked in a sport that fields 22 players at once. For Oregon, guys like quarterback Justin Herbert and linebacker Troy Dye receive the spotlight and deservedly so. But it takes all 22 guys to win. Who are Oregon football's most underappreciated players? Here's my list of current players who deserve more praise.
For starters, Pickett finished with 59 tackles last season — good for fourth on the team. He's one of the better tacklers in the secondary and while he's not necessarily a ball-hawk like teammate Jevon Holland, Pickett's capable of lowering the boom on just about anyone. Let's not forget either that Pickett earned a whole lot of playing time as a true freshman. Now, entering his junior year and already with 21 games worth of experience, Pickett rounds out what will be a solid secondary unit. 
Winston has been one of the better linebackers for Oregon over the past few seasons. He's played in 28 games over three years accounting for 93 tackles, 12.5 TFL, four sacks, and a fumble recovery returned for a touchdown. Winston's been thrown in different sets throughout his three years due his versatility and will assume a same diverse role in 2019. He's a high-energy player, a team leader and exactly the type of guy you want on your team. 
Many might not even recognize the name, but Baker was a steady force along the defensive line last season. Playing primarily on the interior, Baker had 37 tackles and one TFL — starting nose guard Jordon Scott accounted for 29 total tackles. Standing 6-foot-3 and weighing 310 pounds, Baker is a load to block. He graded out as the fifth-best defensive lineman against the run in the Pac-12. Baker made eight starts in 2018 and played in all 13 games. Against Arizona State, he accounted for seven solo tackles, the most by an Oregon defensive lineman in 2018. He's works hard, has a high motor and will play a big role in helping stabilize a defensive line which has lost several key players. 
Schooler is a straight-up football player. He's not overly athletic or fast, but plays hard, does what he's told and exceeds expectations. During his three years with the program which has seen plenty of turnover, Schooler has played on both sides of the ball and earned plenty of playing time. He's also a very good special teams player and may just be the best blocking receiver on the team. During his freshman season, Schooler made 74 tackles and came up with four interceptions. Switching to receiver his sophomore year to help with depth, Schooler immediately earned playing time. In two years at the position, he's caught 41 passes for 477 yards and four touchdowns. His effort to help the program turn around can't go unmentioned. 
Honorable mention: Austin Faoliu, Deommodore Lenoir, Jake Hanson, Jaylon Redd