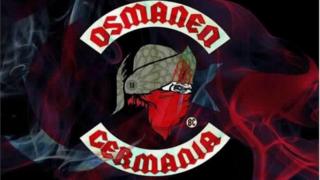 Germany has banned an ethnic Turkish boxer gang called Osmanen Germania, saying it is involved in serious crime.
The group identifies with Turkish nationalism, espouses a macho boxing and biker culture and is reported to be close to Turkey's ruling AK Party.
Police raided the group's premises in four German states on Tuesday.
A German Interior Ministry tweet (in German) said "the group and all its activities are banned". Police reckon the group has at least 300 members.
Justifying the ban, Interior Minister Horst Seehofer said "whoever rejects the rule-of-law state can expect no leniency from us".
He said Osmanen Germania was among "rocker type" groups "whose members commit serious crimes".
In Stuttgart, south-western Germany, eight alleged Osmanen members went on trial in March, accused of attempted murder, blackmail, drug-trafficking and sexual slavery.
The German public broadcaster BR, based in Bavaria, says Osmanen members in Germany have harassed critics of Turkish President Recep Tayyip Erdogan, including Kurdish activists.
Read more on similar topics:
More than three million people of Turkish origin live in Germany, many of them Erdogan supporters.
According to BR research, many Osmanen are close to the secretive Turkish nationalist Grey Wolves movement.
During raids on Osmanen Germania in 2016 and 2017 police seized weapons, drugs and cash.
President Erdogan has purged the entire state apparatus since the botched coup attempt against him in July 2016.
Soon after the coup attempt some Osmanen Germania members were received in the capital Ankara by an Erdogan aide, Ilnur Cevik, who donned one of the club's T-shirts. He told BR that his gesture was a show of support for the group's "youth work".
Osmanen Germania: Germany bans ethnic Turkish boxer gang