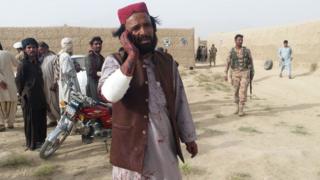 A suicide bomber has killed at least 70 people and injured about 120 in an attack on a campaign rally in south-western Pakistan, police say.
They say a provincial candidate was among the dead in the town of Mastung, near Quetta.
Earlier on Friday, a bomb attack on another election-related gathering killed four people and wounded more than 30 in the northern town of Bannu.
There are fears of further violence ahead of general elections on 25 July.
On Tuesday, a suicide bomber hit a campaign gathering in the northern city of Peshawar, killing 22 people – including a provincial candidate.
The Pakistani Taliban said it carried out that attack.
Tensions across the country have been rising further, as ousted Prime Minister Nawaz Sharif is set to return from the UK.
Sharif and his daughter Maryam face arrest when they land in Lahore later on Friday.
The three-term PM was ousted last year after a corruption investigation. Last week he was sentenced in absentia to 10 years in jail.
He has accused Pakistan's powerful security establishment of conspiring against him ahead of 25 July elections.
Thousands of police officers have been deployed and shipping containers have been placed on some main roads in to block supporters from reaching the airport.
On Thursday, Sharif's PML-N party said hundreds of activists in Lahore had been detained ahead of Sharif's return.
Pakistan's general election
Voters will elect candidates for the 342-seat Pakistan National Assembly
The main parties are Nawaz Sharif's PML-N, former cricketer Imran Khan's PTI and Bilawal Bhutto Zardari's PPP
It will mark the second time that one civilian government has handed power to another after serving a full term
The run-up to the vote has been marred by what observers say is a crackdown on political activists, journalists and critics of the powerful military
More than 371,000 troops will be deployed to protect the election and ensure it is "free and fair", the army says
Pakistan election: Scores killed in bomb attacks on poll rallies