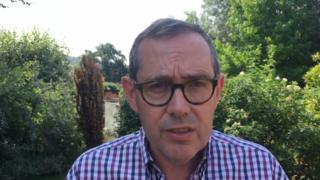 Sir Peter Luff, a former defence minister and Conservative MP, has revealed he has Parkinson's disease.
The 63-year-old, now chairman of the Heritage Lottery Fund, was diagnosed after displaying symptoms including problems with walking and talking.
He said he wanted the public to know about his condition after first being diagnosed three years ago.
"Life goes pretty much as normal and I'm prepared for a different future," the former Mid Worcestershire MP said.
Sir Peter, who stood down as an MP at the 2015 general election, said he has been told his symptoms are mild and that taking medicine three times a day has helped him.
"I should be optimistic my specialist says," he said.
Not 'walking right'
The condition means the brain is progressively damaged leading to a tremor and difficulty moving.
Sir Peter said first symptoms he noticed were the loss of his voice, excessive salivating and pains in his joints.
"I remember at functions at the House of Commons and I'd make a cup of tea I couldn't move my hands to get the cup of tea down on the table after I'd finish drinking it," he said.
He was "extraordinarily uncomfortable" when sitting down at times and "the aches and pains started coming and the dribbling – which was embarrassing," he added.
Eventually, he saw a neurologist after his wife, Julia, said he was not "walking right".
He said it took a "long, long time" for a diagnosis as his physiotherapist, dentist and occupational health doctor did not recognise his symptoms.
However, finding out he had the condition came as a relief because he understood what was wrong and is now urging other people who may fear they have the degenerative disease to go see their GP.
He said the diagnosis was not the reason he stood down as an MP after 23 years and he is confident the disease would not affect his ability to do his job at the Heritage Lottery Fund.
"I think it is better that people know," he said.
"It's certainly made life much easier for my family… the burden of the secret has gone."
He added that although the disease presents an unknown future, as it can lead to a "rather fast decline", he was prepared.
"I've made the preparations for it and we'll see what happens."
Parkinson's diagnosis for ex-minister Sir Peter Luff}