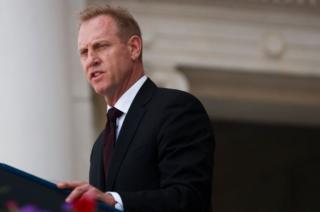 US President Donald Trump has announced his choice for defence secretary has withdrawn, shaking up the Pentagon at a time of rising Middle East tensions.
He tweeted that Patrick Shanahan has pulled out of consideration "so that he can devote more time to his family".
Mr Shanahan, who will be replaced by Army Secretary Mark Esper, had not yet been nominated for the cabinet post.
It comes as Mr Shanahan publicly addressed allegations of domestic violence.
Patrick Shanahan: Trump says his choice for Pentagon chief is out