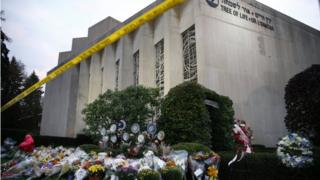 Robert Bowers, the alleged gunman accused of killing 11 Jewish worshippers at a Pittsburgh synagogue on Saturday has pleaded not guilty.
Bowers, 46, has requested a jury trial, US media reported on Thursday.
He faces 44 counts of murder, hate crimes, obstructing religious practices and other crimes. Prosecutors are seeking the death penalty.
Authorities called the attack on the Tree of Life synagogue the worst anti-Semitic incident in US history.
US media reported Mr Bowers entered the courtroom without a wheelchair, bandaged on the arm from the injuries suffered during a shootout with police on Saturday.
During his first court appearance, Mr Bowers was in a wheelchair and spoke little.
On Wednesday, US prosecutors added a further 15 charges to the 29 Mr Bowers already faces, making a total of 44.
According to an affidavit, Mr Bowers told police immediately after his arrest that "he wanted all Jews to die".
Social media accounts purported to be Mr Bowers' also featured anti-Semitic slurs and anti-immigrant sentiments, including a post saying "I can't sit by and watch…Screw your optics, I'm going in," that was uploaded just before Saturday's shooting.
Funerals for the 11 victims began on Tuesday.
On Thursday, funerals for the couple Bernice and Sylvan Simon and Richard Gottfried will be held.
Pittsburgh shooting: Robert Bowers pleads not guilty