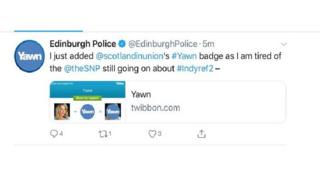 A tweet declaring "I am tired of the SNP still going on about" a second independence referendum has been posted on one of Police Scotland's verified Twitter accounts.
The profile picture on the official account for the force in Edinburgh was also changed to include a "Yawn" sign.
The tweet has reportedly been put down to "human error" and quickly deleted.
A police spokesman said officers were being reminded of their social media responsibilities.
The Yawn campaign was launched by pro-Union group Scotland in Union and allows followers to have the icon added to their page, with a message automatically tweeted from their account.
The post by @EdinburghPolice on Saturday, read: "I just added @scotlandinunion's #Yawn badge as I am tired of the @theSNP still going on about #Indyref2."
Ch Insp David Robertson said: "We're aware of this tweet and it was deleted immediately. All officers will be reminded of the need to use social media responsibly."
Police Scotland anti-independence tweet deleted}