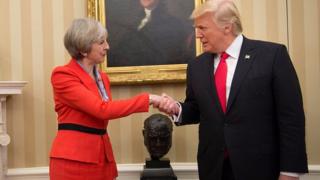 The UK is in "turmoil" and "it is up to the people" whether Theresa May stays as prime minister, Donald Trump has said ahead of his first visit to the country as US President.
Mr Trump told reporters before leaving Washington there were "a lot of things going on" in the UK at the moment.
He said he got on well with Mrs May and had "always liked" Boris Johnson, who quit as foreign secretary on Monday.
Mr Trump arrives on Thursday after attending the Nato summit.
President Donald Trump talks of UK turmoil ahead of visit}