Theresa May went head-to-head with Jeremy Corbyn in the House of Commons. Here's what happened.
Brexit this week – as Jeremy Corbyn made repeated attempts to get Theresa May to say what her government's policy is on customs arrangements with the EU when Britain leaves in 10 months time.
The Labour leader began – as is rapidly becoming his habit – with a short, punchy question. Did she agree with her Foreign Secretary Boris Johnson, that one of the options being considered by the government, a "customs partnership", is "crazy"?
Mrs May listed all the things she wanted from a post-Brexit customs policy – frictionless trade, no hard border in Ireland etc – before launching an attack on Mr Corbyn's past views on the EU, saying he had opposed the Transatlantic Trade and Investment Partnership (TTIP).
Labour's policy on the customs union, she claimed, would mean signing up to TTIP. Cue a puzzled shake of the head from the Labour leader.
Deputy Speaker Lindsay Hoyle, standing in for John Bercow, who is attending the funeral of his predecessor, Lord Martin of Springburn, in Glasgow, reminded the PM that it was not her job to set out Labour policies.
Mr Corbyn continued to hammer away at Mrs May's unwillingness to say which customs option she prefers, quoting the Remain-supporting business secretary Greg Clark, who had warned on the BBC's Andrew Marr show on Sunday that not signing up to a customs partnership would cost jobs.
Mrs May trumpeted the government's record on employment.
Mr Corbyn quoted Ken Clarke, the veteran Tory Europhile and longest-serving MP, who told the BBC's Newsnight that Mrs May had to control the "wild right-wing people" in her cabinet who he said were pushing her towards a hard Brexit. Mr Clarke offered a wry smile from the backbenches.
The PM offered another broad restatement of the government's Brexit aims and another attack on Labour, who she accused of going back on their manifesto promise to come out of a customs union.
Surely, after 23 months of negotiations the government can do better than this, said Mr Corbyn. Why don't they heed the advice of the CBI and the TUC and accept Labour's policy of a new customs union? When will MPs get to debate the much-delayed trade bill? What is her preferred customs option and when it will be ready to be implemented?
Mrs May said progress had been made in Brussels and she had set out two customs options. "Questions have been raised about both of those options and further work continues," she explained. And that was much as were going to get.
"He has spent an entire career opposing a customs union, now when the British people want to come out he wants to stay in," she told the Labour leader.
Mr Corbyn said the Brexit talks were in a "shambles" because the government is "divided" – how can they get a good deal for the UK when they can't agree among themselves and are more interested in furthering their own careers?
Mrs May ended the exchanges with a standard defence of her government's record on jobs – and a swipe at Labour over their failure to take Tory targets in Thursday's local elections.
What else came up?
The SNP's leader at Westminster Ian Blackford raised the other major talking point at Westminster – Donald Trump's decision for the US to leave the Iran nuclear deal – and efforts by UK, France and Germany to hold it together.
MPs also showed their approval of Lindsay Hoyle's handling of the session with some appreciative cheers, at the end of the shorter-than-recently-usual PMQs session.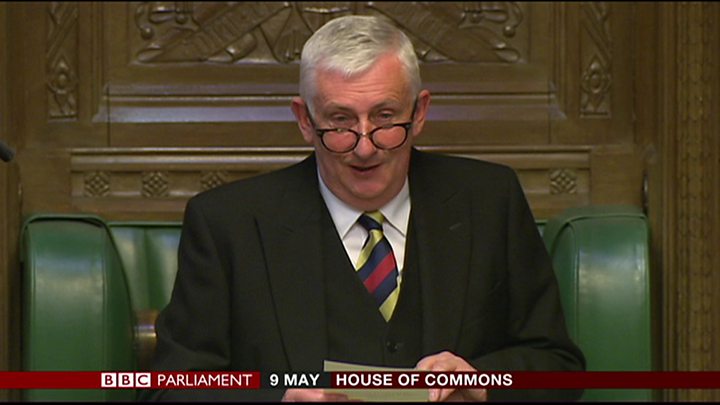 Labour's Matt Western kept up the pressure on Theresa May over cabinet divisions on post-Brexit customs arrangements.
The Verdicts
Here's what the BBC's Andrew Neil made of it:
Here's the BBC's Mark D'Arcy's take on it:
A clear win for Jeremy Corbyn. OK, the government's visible divisions over a post-Brexit Customs Union presented him with an open goal, but you still have to score. He did.
The PM had to fall back on formulaic holding answers and boilerplate attacks on Labour, mixed with a bit of local election crowing. And most telling of all were the muted "hear hears" she extracted from her troops.
Both pro and anti Tory factions on Brexit are uneasy at the moment – and the mainstream MPs, who would back the PM more or less whatever she did, are aching for a clear lead.
Jeremy Corbyn's call for the Trade Bill to be brought back before MPs for its long-delayed Report Stage was a well-targeted reminder that the government seems to believe it can't win a vote on the customs union issue with its current policy.
Lindsay Hoyle did a good job presiding over a quiet-ish PMQs – and while some on twitter have been contrasting his approach to John Bercow's, he didn't have to deal with any serious outbreak of disorder, or any major bouts of backbench ranting.
Only once did he have to shut down a prolix questioner…. Which he did fairly clinically.
He got through the list of questioners in less than 40 minutes, which the PM will probably be grateful for. A 3.5 for artistic impression, for understated elegance; a 4.0 for technical merit, for keeping PMQs a bit closer to time.
What pundits are saying on Twitter
Prime Minister's Questions: The key bits and the verdict}