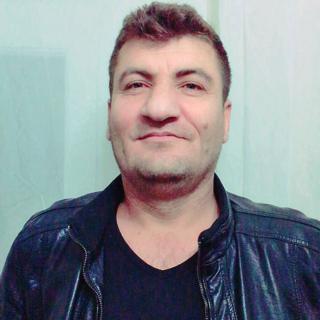 A prominent Syrian media activist has been shot dead by gunmen in the rebel-held province of Idlib, Syria.
Raed Fares, a well-known Syrian media activist, was killed in the northwestern town of Kafranbel.
Mr Fares founded Radio Fresh, an independent radio station broadcasting from inside opposition-held areas in the country.
He and his radio station had been targeted by jihadist groups in the past.
Four years ago, when the Islamic State (IS) group had a presence in Idlib province, the station's office was raided by militants. In 2016, Mr Fares was detained by the Nusra Front, the former al-Qaeda affiliate in Syria.
The Hayat Tahrir al-Sham alliance (HTS), which currently controls most of Idlib province, ordered Radio Fresh to stop broadcasting music.
The station's response was to play "sarcastic" sounds such as animal noises.
Radio Fresh's Facebook page posted a graphic photo of Mr Fares's body on 23 November, along with an image of the body of Hammoud Juneid, another activist who was shot dead.
News of his death led to an outpouring of grief on social media from activists and international journalists.
Prominent Syrian media activist shot dead in Idlib}