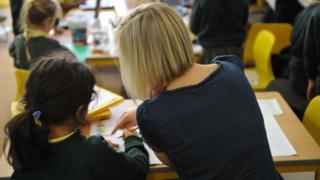 A million public sector workers are to receive their biggest pay rise in nearly 10 years, the government says.
It includes 2.9% extra this year for the armed forces, 2.75% for prison officers and 3.5% for teachers.
Police will see a 2% rise, the same increase seen by junior doctors, GPs and dentists.
The move confirms the scrapping of the 1% pay cap last year and follows campaigns by unions for higher wage rises.
The government said the increases were affordable within its spending plans. Individual departments are having to fund the pay rises, rather than the money coming from the Treasury.
'Decade of pay cuts'
Labour called for the government to "end the cruel pay cap once and for all".
Peter Dowd, the party's shadow chief secretary to the Treasury, said: "Public sector workers have faced nearly a decade of austerity pay cuts and an onslaught on their living standards.
"The government's offer fails to compensate workers for the huge losses in income they have faced under the Tories' brutal pay restraint policy."
He added that "the lack of new funding for departments also means pay rises will have to come at the cost of other services".
When plans to end the 1% public sector pay cap in England and Wales were announced last year, deals were only confirmed for some NHS and prison staff and police.
A new pay deal for the NHS was announced in March, promising a 6.5% increase over three years.
Workers voted on and agreed to the deal in June, meaning 1.3 million were to see the rise in their July pay packets.
The cap for police and prison officers was also lifted last September, with unions accepting rises of 1% with a 1% bonus and 1.7%, respectively, for this year.
The cost of scrapping the 1% cap is estimated at £4bn. The move was seen as a bid to boost staff recruitment and retention as well as improve morale in the public sector.
The Minister of State for Children and Families, Nadhim Zahawi, said it was right for teachers to get a pay rise.
"It is good news," he told BBC News. "You can't have great schools without having great teachers – and we've got to make sure they are paid properly – and ultimately we've got to find the money from budgets in government."
Unions had been arguing for pay rises closer to 5% to make up for the austerity measures introduced by David Cameron's government eight years ago.
The rise for members of the armed forces is 2%, falling short of the 2.9% recommended by the Armed Forces' Pay Review Body, but is being supplemented by a one-off payment of 0.9% this year.
Public sector workers: Pay rises announced for a million people}