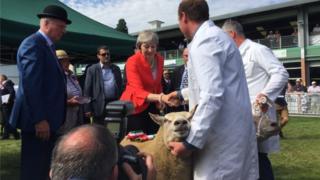 Rural Wales will "break down" without a Brexit deal with the EU, the Farmers Union of Wales will tell the prime minister later.
Theresa May is set to meet farming unions and other rural organisations during her visit to the Royal Welsh Show on Thursday.
She will say Brexit provides an opportunity to create a farming sector "fit for the future".
But unions will stress to Mrs May the importance of a deal to the industry.
Mrs May will also reiterate her government's commitment to maintain EU funding levels for agriculture in Wales until 2022.
Welsh farmers currently receive about £300m a year in subsidies as part of the EU's Common Agricultural Policy (CAP).
The Welsh Government's Rural Affairs Secretary Lesley Griffiths said she had received no further clarity on future funding during her meeting with the UK government's Environment Secretary Michael Gove at the show on Tuesday.
Alan Davies, managing director of the FUW, said he would reiterate to the prime minister "the need to guarantee quickly how much money Wales is going to get".
With the UK government stepping up preparations for a breakdown in the negotiations with the EU, Meat Promotion Wales warned on Monday that a no-deal Brexit would cause a "seismic shock" through the Welsh farming industry.
Mr Gove told BBC Wales he was confident the UK and EU would be able to secure tariff-free access to the EU market.
Reaching a deal is "absolutely essential because otherwise we're going to put farmers under enormous pressure and we will see breakdown of rural Wales as we know it", according to Mr Davies of the FUW.
NFU Cymru President John Davies, who will also take part in the prime minister's roundtable meeting, said: "We will be impressing upon her the need to work with the European Commission to secure the agreement on trade that we all want to see.
"Farmers urgently need the certainty that access to their most important export market will remain open."
Mrs May will discuss the replacement of the "fundamentally flawed" CAP system after Brexit with Welsh industry representatives, even though her government is responsible for introducing an England-only scheme.
The Welsh Government's plans for a Welsh replacement scheme are currently open to consultation.
Speaking ahead of her visit to the show in Llanelwedd in Powys, the prime minister said: "Leaving the EU presents us with a unique opportunity to transform our food, farming and environmental policies so we can have a healthy and prosperous agricultural industry that is fit for the future, and helps us to leave the environment in a better place than we found it.
"I commend our hard-working farmers up and down the country, and here in Wales, who deserve better than the fundamentally flawed CAP system.
"That is why I want to hear from them today about what they need so we deliver a farming policy which supports the whole industry.
"And while our proposals are for England only, I look forward to working with the farming unions, Welsh Government and stakeholders to best serve our farmers here as they develop a scheme specific to Wales," she added.
Royal Welsh: Union to warn May of Brexit no-deal catastrophe}