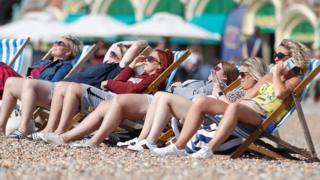 Restrictions banning social gatherings of more than six people have come into effect, following a rise in coronavirus cases.
The "rule of six" applies both indoors and outdoors in England and Scotland, and indoors only in Wales.
Restrictions in England affect everyone, but do not include children under 11 in Wales or under 12 in Scotland.
Some Tory MPs have urged No 10 to also exempt young children in England.
The new rules are introduced as the UK's R number escalated to between 1 and 1.2 for the first time since March, indicating infections are rising.
A further 3,330 positive cases were recorded in the UK on Sunday – the third consecutive day in which cases have been over 3,000 – with five more deaths reported.
According to the UK government's coronavirus dashboard, the total number of reported coronavirus deaths across the UK is 41,628.
Crime Minister Kit Malthouse told BBC Radio 4's Today programme people should use the non-emergency contact number to report gatherings of seven or more to the police.
"If they are concerned and they do see that kind of thing then absolutely they should," he said, adding people should report neighbours who are breaching the rules.
Mr Malthouse added that so-called "Covid marshals" had proved useful across the country during lockdown and "the intention is that we roll those out across the country" with funding decided shortly by the Treasury.
National Police Chiefs' Council chairman Martin Hewitt told BBC Breakfast officers would continue to explain the rules to people.
"We will carry on enforcing these in the same way we have been doing this for what's now nearly six months," he said.
"We're part of the group that are trying to explain to members of the public what the rules are and encouraging people to comply with them."
Home Secretary Priti Patel earlier urged the public not to break the rules and said "the recent rise in cases makes it clear that more needs to be done to stop the spread of this disease".
At-a-glance: What are the new rules?
Under the new rules, larger gatherings are still allowed at gyms, schools, places of worship, weddings and funerals. Education and work settings are not affected.
The "rule of six" in England replaces the existing ban on gatherings of more than 30 people and the current guidance on allowing two households to meet indoors.
England, Scotland and Wales each have new restrictions, with several key similarities and differences.
Groups larger than six can be broken up by police, with members of the group facing fines of £100 for a first offence, doubling on each further offence up to £3,200.
Northern Ireland announced a six person, two household limit on indoor gatherings on 24 August, a reduction on a previous restriction of 10 people from four households.
The devolved nations have powers to set their own coronavirus restrictions, and while the UK nations have broadly moved in the same direction, they have done so at their own pace during the pandemic.
The Metropolitan Police said it will deploy resources across the capital to enforce the tighter restrictions on social gatherings.
But the West Yorkshire Police Federation, which represents rank-and-file officers, warned that staff are already so stretched that relying solely on the police to enforce the new law is unrealistic.
The government said that Covid-secure marshals will be introduced in town and city centres to help ensure rules are followed.
But local councils – which would be expected to provide the staff – said they would need to be fully funded.
'Rule of six' to target Covid rise in UK