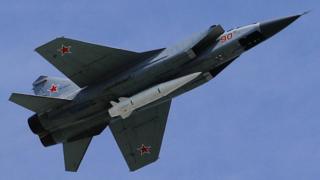 Russia's Federal Security Service (FSB) has raided a space research facility after a suspected leak of hypersonic missile secrets to Western spies.
The state space agency Roskosmos said its security staff were co-operating with FSB officers on a criminal case.
Russia's Kommersant daily says about 10 staff at a Roskosmos facility called TsNIIMash are under suspicion. A director's office was searched.
Hypersonic missiles fly at more than five times the speed of sound (Mach 5).
On Thursday Russia released video of two new hypersonic missile systems – called Kinzhal and Avangard.
"It was established that the leak came from a TsNIIMash employee," a source told Kommersant.
TsNIIMash is a top scientific subsidiary of Roskosmos, which runs Russia's space programmes.
Russia's defence ministry has broadcast video of what it calls a new generation of hypersonic missiles, which can carry nuclear warheads. Some are launched by bombers, others are shown being launched from silos or mobile launch vehicles.
President Vladimir Putin spoke about the systems in March, including the Kinzhal missile, which can reach Mach 10 – about 12,000km/h (7,456mph) – with a range of 2,000km.
The Kinzhal, already in service, is launched from MiG-31 or Tu-22M3 jets. Interfax news agency says Kinzhal-armed MiGs patrol over the Caspian Sea.
Read more on similar topics:
TsNIIMash is in the town of Korolyov, in the Moscow region.
The FSB also searched offices at the United Rocket and Space Corporation (ORKK) in the Russian capital.
Kommersant says a state corporation called Tactical Missile Arms handles hypersonic projects, but TsNIIMash works very closely with it.
Russia fears leak of hypersonic missile secrets to West