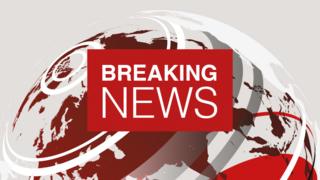 The Ukrainian navy says Russia has opened fire and seized three of its vessels off the coast of the annexed Crimea, in an escalation of tensions.
Two gunboats were captured and a tug was forced to stop, a statement said. Two crew members were injured.
Russia is yet to comment on the claims.
It earlier accused Ukraine of illegally entering Russian waters, blocking access to the Sea of Azov with a tanker.
Tensions have risen in the seas off the Crimean peninsula – annexed by Russia in 2014 – in recent months.
Russia 'fires on and seizes Ukraine ships'