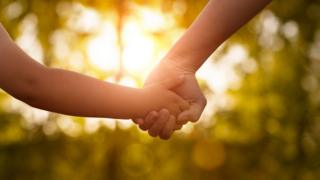 The mother of a seriously ill boy of six is facing up to eight years in prison in Russia for trying to sell anti-seizure medication she says she no longer needed for her son.
When Yekaterina Konnova tried to sell several tubes of diazepam (valium) rectal gel online, police mounted a sting operation and she was arrested.
The gel is not registered in Russia and she is accused of selling drugs.
Charities have appealed for the case to be dropped and laws to to be changed.
They fear that if the mother-of-two is imprisoned, her younger son, who has suffered from epileptic seizures and other illnesses since birth, will perish in care and his elder brother will be put in an orphanage.
Ms Konnova, who is raising the children on her own after their father reportedly left them, tried to re-sell the gel on the online forum where she had originally bought it, Russian media say.
She was arrested outside a Moscow metro station trying to sell the medication for a total of 3,250 roubles (£39; $51).
A crackdown on drug-trafficking in Russia, which has been battling hard drugs like heroin for decades, has led to a shortage of opioid painkillers in recent years.
The UK's National Health Service says diazepam in gel form is used in Western countries as a "fast effective method of control" to help children or adolescents experiencing prolonged seizures.
Why was she selling it?
It is not entirely clear why.
According to the Russian news site Znak, Ms Konnova was offered the chance of a free version of diazepam from a clinic in ampoule form (web links are in Russian), which is legal in Russia, and she no longer needed the gel.
But Moscow TV station Ren said that the gel had stopped helping her little boy.
It seemed unlikely she was trying to profit from the resale: she bought the five tubes originally for 5,000 roubles, according to a petition for the prosecution to be dropped.
Russian media say her youngest son Arseny completely depends on his mother, who cannot leave his bedside even when he is asleep.
What do charities say?
Nyuta Federmesser, who champions hospices in Russia, has urged President Vladimir Putin to intervene and change legislation to help alleviate the suffering of young patients and their families, AFP news agency reports.
"We are developing nanotechnology, we can organise the World Cup and host Olympic Games, we fly to space, we develop gene engineering, we have crypto currencies and blockchain," she wrote in an appeal on Facebook. "Cannot we change legislation???"
Lida Moniava, deputy director at Lighthouse, a children's hospice in Moscow, said: "We are horrified by what's happening because if Katya [Yekaterina] goes to prison, Arseny will end up in a care home for the disabled where he will quickly die and his elder brother will go to an orphanage."
Has this happened before in Russia?
The petition in support of Ms Konnova says it is the first time that the mother of a child with an incurable illness faces a real prospect of going to prison.
However, a case last year in the city of Ufa bears some similarities.
The widow of a man who died from cancer tried to sell on what was left of his painkiller morphine, apparently to pay funeral expenses and outstanding medical bills.
She was jailed for two years and one month while an accomplice received nine years, Ren TV reports.
Russian mother faces jail for trying to sell son's seizure gel