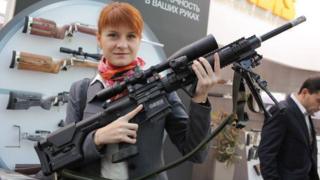 The US government has charged a 29-year-old Russian woman with conspiracy to act as a Russian government agent while infiltrating political groups.
Maria Butina had developed close ties with the Republican party and had become an advocate for gun rights, according to US media reports.
The charges are not related to the Mueller probe that is examining alleged Russian meddling in the 2016 election.
She allegedly worked at the direction of a high-level Kremlin official.
Ms Butina, who lives in Washington, was arrested on Sunday and was ordered held in jail pending a hearing set for Wednesday, the Department of Justice (DOJ) said in a statement.
In a sworn statement unsealed on Monday, FBI Special Agent Kevin Helson said her assignment was to "exploit personal connections with US persons having influence in American politics in an effort to advance the interests of the Russian Federation".
She did so without registering her activities with the US government, as required under the Foreign Agent Registration Act, prosecutors say.
Ms Butina sought to foster ties with an "organisation promoting gun rights", the DOJ said, without naming any group or politicians.
US media have previously reported her ties to the National Rifle Association (NRA), the most powerful gun lobby in the US.
Ms Butina, originally from Siberia, founded a group called the Right to Bear Arms before coming to the US on a student visa to study at American University.
She has previously denied having worked for the Russian government.
The announcement of her arrest came hours after US President Donald Trump met his Russian counterpart, Vladimir Putin, in closed-door talks in the Finnish capital Helsinki on Monday.
Russian woman charged with spying in the US