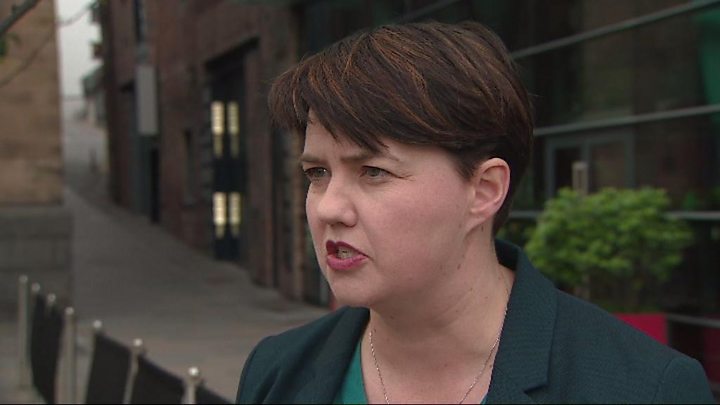 Scottish Tory leader Ruth Davidson has told party members who would put Brexit ahead of preserving the UK union to "take a long, hard look at themselves".
A YouGov survey of Conservative members suggested 63% would back Brexit even if it meant Scotland leaving the UK.
Ms Davidson said the 2016 EU referendum result should be delivered, "but not at the expense of breaking up the UK".
She also said her chosen candidate in the leadership race, Sajid Javid, was "doing really well in the debates".
There are five candidates still in the running to replace Theresa May as Tory leader and prime minister, with Boris Johnson the frontrunner.
The YouGov survey of 892 Conservative Party members, conducted earlier in June, saw 63% of those taking part saying they would rather Brexit took place, even if it meant "Scotland leaving the United Kingdom".
On the other hand, only 29% of respondents said they would rather Brexit did not take place to avoid this scenario.
Scottish Brexit Secretary Mike Russell said the survey was "devastating" for Ms Davidson, saying it showed Tory members regarded the UK as "expendable in pursuit of the Brexit chimera".
Asked about the survey, Ms Davidson said: "I think there are a number of people within the Conservative Party who need to take a long, hard look at themselves.
"Yes, I understand of course we have got to respect the referendum result, of course we've got to deliver Brexit, but not at the expense of breaking up the UK.
"I would remind people of their obligations within the party – yes, we're a Conservative Party, but we're also a Unionist party, and I'd remind them that our own union of nations is every bit as important as leaving someone else."
Ms Davidson also reacted to the latest round of voting in the Tory leadership contest, which saw her preferred candidate – Home Secretary Sajid Javid – only just make the cut with 33 votes.
She said Mr Javid was "doing really well", adding: "My mother always brought me up right to say you dance with the person who brought you, so I'm not about to change horses mid-course."
Boris Johnson has by far the most backing from Conservative MPs, with 126 backers – including four Scottish Conservatives.
Michael Gove has the most backing from MPs north of the border, with six Scottish Tories backing him – including Scottish Secretary David Mundell – although his 41 votes are in third behind Jeremy Hunt's 46.
Rory Stewart – who has won the endorsement of several Scottish Conservative MSPs, who do not have a vote at this point – saw the biggest jump in support from the previous round, nearly doubling his backing from 19 to 37 votes.
The five remaining candidates will face further ballots later this week – the next one on Wednesday – where the bottom-ranked MP will be knocked out until only two candidates are left.
The final two names will then be put to a postal vote of the 160,000 Tory party members, beginning on 22 June, with the winner expected to be announced about four weeks later.
The UK's next prime minister
At an event on Tuesday evening, First Minister Nicola Sturgeon said whoever the next Conservative leader was, they could cause "immense damage" to Scotland by allowing the UK to leave the EU without a deal.
She said: "Instead of the chaos and dysfunction at Westminster, I believe people want a welcoming, tolerant, internationalist, European, equal, caring Scotland.
"We can achieve that country if Scotland's future is truly in Scotland's hands.
"That's why, for all the undoubted successes of devolution, this has to be a time for taking stock. Scotland must have the option of choosing a different course.
"The next six months could offer challenges greater than anything we have seen in the last 20 years. In my view they will inevitably require greater powers for Scotland – indeed the full powers that come with independence."
Ruth Davidson: 'Deliver Brexit, but not at expense of UK'}