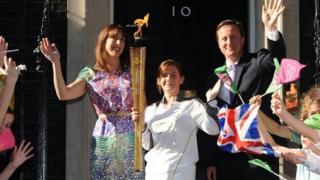 It has become part and parcel of being a political spouse but Samantha Cameron has confessed hating having to wave while posing for photos.
Mrs Cameron, whose husband David led the UK for six years, told the Times the whole idea was "bizarre".
"It's not like we are the royal family. I was terrible at it," she said.
While she met some "amazing people" during her time in Downing Street, she suggested she did not "enjoy" the ceremonial aspects of the role.
Mrs Cameron spent a decade in the public eye after her husband became Conservative leader in 2005.
Although she largely shunned the limelight while in Downing Street, focusing on charitable work, she said there were still things about her time on the international stage she struggled to understand.
"We had to stand next to the Obamas in Washington once and I tried to say 'can we not do the waving thing'?
"And it is going quite well and then of course Obama starts waving and Dave starts waving and so."
In the interview, Mrs Cameron – who since leaving No 10 has launched her own fashion label – also recalled some of the wardrobe malfunctions she had suffered.
There was the time her dress ripped while she was on stage at a party conference and she had to cover the tear with her pashmina: "I sat there for an hour panicking."
She said she soon learnt not to wear anything "too fussy" while in Downing Street and to put the accent on colour – recalling how her favoured choice of a dark trouser suit against the backdrop of No 10 made her and her husband look like a pair of accountants.
You may also like:
Samantha Cameron: I was terrible at waving to crowds}