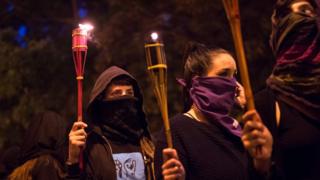 The world-famous San Fermín bull festival begins in northern Spain on Friday, despite protests calling for its cancellation over sexual violence.
Five men sexually abused a woman at the festival in 2016, and thousands protested when they were sentenced on a lesser charge than rape in April.
Some feminist groups have called on women to wear black and a purple scarf to the opening event, instead of the traditional white and red.
Others have called for a total boycott.
But local feminist activists in Pamplona, where the attack took place, have pushed back against the calls for protest.
They have asked for their traditional festival to be respected, and said that protests were planned "without consensus, without any confirmation and without a clear goal", according to Spanish newspaper El Pais.
The protests have been prompted by five men who were sentenced to nine years in prison for sexual abuse of a young festival attendee.
Known as the "wolf pack" (La Manada), their case shocked the Spanish public – but the five men were recently released on bail, pending an appeal.
In theory, that means they could be at the festival again this year – though there is no evidence to suggest any plan to attend.
Animal rights protesters have also staged a protest over the running of the bulls, objecting to their killing in the bullring later in the day.
What happened at the festival?
The incident at the heart of the sexual abuse scandal happened at the festival in 2016 – but the court case concluded only months ago.
The "wolf pack", named after the title of their own chat group where they shared videos of the incident, were accused of rape by their victim. They had had sex with the 18-year-old woman, whom they had led from Pamplona's streets.
The police report said she had a "passive or neutral" attitude throughout the scene, keeping her eyes closed at all times.
A Spanish court found them guilty of the lesser charge of sexual abuse, rather than sexual assault or rape.
The verdict led to large protests across Spain for days, and the emergence of the social media hashtag #cuéntalo – which means "tell it" – and has been compared to the English-language #MeToo women's movement.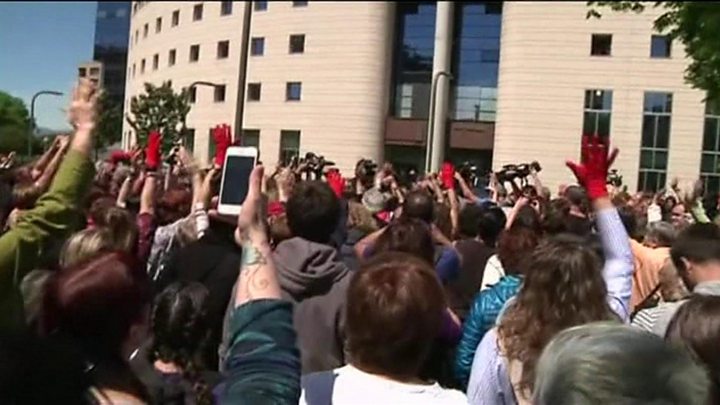 A red glove – in the colour of the traditional San Fermín scarf – became a symbol of the protests.
Pamplona, meanwhile, has been battling to portray itself as a safe place for women ahead of this year's festival.
Its official website calls for "joy and respect for others, especially respect for all females".
Its "party guide" also warns: "San Fermín is not at all a sexually permissive fiesta."
"Everyone is respected just as they would be in any other quite different situation, and that applies both to men and women."
Pamplona city council's equality chief, Laura Berro, told AFP news agency that until recently, "there was very backward thinking that justified men assaulting others under the effect of alcohol and in the party context".
"People have been more aware for several years now, because we've given voice to feminist ideas, and gradually, there are very important, very deep changes taking place," she said.
The bull-running festival runs for a week, until 13 July.
San Fermín bull festival begins under sexual abuse cloud