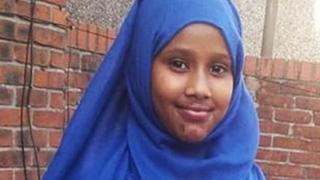 A 12-year-old girl has drowned in the River Irwell in Greater Manchester.
Shukri Abdi was last seen in the river – parts of which are 20ft (6m) deep – off Dunster Road, Bury at 19:55 BST on Thursday.
Greater Manchester Police said it was treating what happened as a "tragic incident" and did not believe there were any suspicious circumstances.
Shukri's family, who live in Bury, said she could not swim and playing by the river was "out of character".
Her uncle, Mustaf Omar, said: "She was a sweet, innocent child. Her mum is absolutely destroyed.
"Everything about it is out of character for her.
"She couldn't swim so she wouldn't even go near the edge."
Shukri, from Somalia, was the eldest of five children and was new to the country, Mr Omar said.
Police have warned of the dangers of playing or swimming in rivers, lakes and reservoirs following her death.
Det Insp Andrew Naismith said: "With the warmer weather, it's tempting to go into the water to cool off but… [I] would strongly urge against this."
Greater Manchester Fire and Rescue Service said it believed the girl had been playing with two other children who raised the alarm when they realised she was missing.
According to the Met Office, temperatures are set to rise across the majority of the UK on Friday and Saturday before turning cooler on Sunday.
The girl's death came just hours after two men, aged 25 and 26, died after being pulled from the sea off Torquay.
Their bodies were discovered close to Babbacombe Beach at about 14:00 BST by a lifeboat crew.
It has not yet been confirmed how the two men came to be in the water, Devon and Cornwall Police said.
Lee Heard, from The Royal Life Saving Society UK, urged the public to stick to supervised swimming sites.
"It is understandably tempting to cool off in the water on a hot day but the water temperature is still cold enough to take your breath away," he said.
"Open water also conceals dangers such as strong currents and debris, that can catch you out."
Rivers and beaches are the most common locations for fatal drownings, the National Water Safety Forum said.
In 2018, 263 people lost their lives from accidental drowning in the UK, of which 74 drowned in rivers and 73 on or near beaches.
"If you find yourself in trouble, remember to float first, fight your instinct to swim, control your breathing, then kick to the side," said David Walker, from The Royal Society for the Prevention of Accidents.
"We urge parents to search for cold water shock, and have that conversation with children today, before they go out over the weekend."
Shukri Abdi, 12, drowns in River Irwell in Bury – BBC News