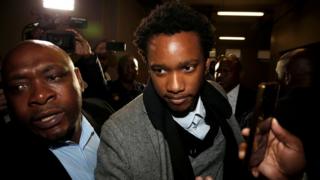 The son of South Africa's former President Jacob Zuma has been charged with corruption in a court in the commercial city of Johannesburg.
Duduzane Zuma is alleged to have been part of attempts to bribe a former deputy finance minister to agree to a top role in government.
The allegation is related to the activities of the controversial Gupta family who are accused of exerting undue influence over President Zuma.
All parties deny any wrongdoing.
In 2015, former Deputy Finance Minister Mcebisi Jonas claimed he had been offered the position of finance minister and a bribe of 600m rand ($44m; £36m)) during a meeting with Duduzane Zuma, businessman Fana Hlongwane and Ajay Gupta.
The incident is part of what has come to be known in South Africa as state capture – that the Gupta family used their links with President Zuma to advance their business interests.
The younger Zuma appeared in court with ankle chains and joked with reporters. "I quite like the look," local EWN news site quotes him as saying.
The case has been postponed to 24 January 2019 and a bail of 100,000 rand ($7,4000; $5,400) was granted. Mr Zuma was also ordered to hand in his passport.
Duduzane Zuma, 34, lives in Dubai, and was back in the country to attend his brother's funeral.
South Africa ex-President Jacob Zuma's son charged with corruption