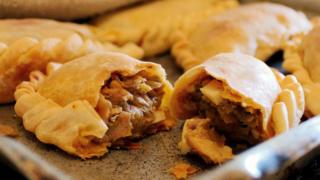 A Spanish judge has told a supermarket to reinstate a sacked worker or pay her €19,000 (£16,758; $22,636), arguing that secret video showing her eating a pasty had breached her privacy.
A spy camera in the Córdoba shop had recorded the woman eating a pasty while serving customers, violating the rules.
The woman, not named, was sacked in November, having worked there for 12 years. She was unaware of the camera.
A European ruling says firms must not use such recordings in dismissal cases.
The Córdoba supermarket disciplined the worker because she had breached hygiene rules and had helped herself to a pasty – an empanadilla – on sale to the public.
Her lawyer, Valentín Aguilar, says on his website (in Spanish) that the Córdoba court ruling is a legal first for Spain.
Read more on similar topics:
In January, five other Spanish supermarket workers – all women – won a similar case at the European Court of Human Rights.
Spanish courts had accepted covert video evidence from a supermarket chain, MSA, which accused the five of stealing items and helping co-workers and customers to do so.
But the European Court in Strasbourg found that under Spanish data protection law the workers should have been informed that they were under surveillance. The spy camera violated their right to privacy, the judges ruled, in López Ribalda v Spain.
In that case, the court ordered Spain to pay each of the five women €4,000 in damages, as well as €500 in costs to four, and €569 in costs to one.
MSA had made them aware of visible cameras in the shop, but not of hidden cameras.
Spanish woman wins spy cam case over supermarket pasty