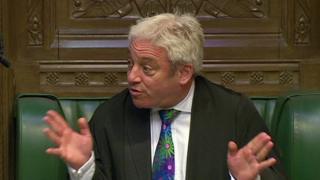 Commons Speaker John Bercow has acknowledged that "strong and differing views were expressed" in the House of Commons, after claims he called a cabinet minister "a stupid woman".
The Telegraph reported he made the comments about Commons Leader Andrea Leadsom under his breath.
Mr Bercow's office said it would not comment on "suggested accounts of private conversations".
A statement added Mr Bercow "treats his colleagues with respect".
BBC political correspondent Alex Forsyth said the allegations would add to pressure on Mr Bercow following allegations of bullying from former members of staff, which he has denied.
'Controversial day'
The story in the Telegraph and the Sun suggests Mr Bercow muttered insults under his breath following prime minister's questions on Wednesday.
Asked to respond, the Speaker's office said: "Wednesday was an unusual and controversial day in how business was handled in the House by the government and some strong and differing views were expressed on all sides on the subject.
"The Speaker treats his colleagues with respect and strives at every turn to facilitate the House of Commons."
On Wednesday, the Commons Standards Committee voted against an investigation by Parliamentary Commissioner for Standards Kathryn Stone into the allegations of bullying made against Mr Bercow.
The Speaker's former private secretary, Angus Sinclair, has said Mr Bercow shouted and swore at him, and attempted to physically intimidate him.
A spokesman for Mr Bercow has said there is "no substance" to the allegations.
Speaker John Bercow facing new outburst claims}