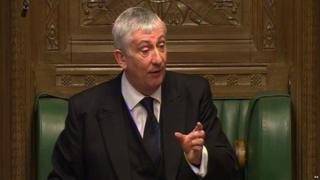 Commons Speaker John Bercow is to miss Prime Minister's Questions for the first time, to attend the funeral of his predecessor, Lord Martin.
Deputy Speaker Lindsay Hoyle will stand in for Mr Bercow at the weekly clash between Theresa May and Jeremy Corbyn.
MPs formally approved a motion on Tuesday granting Mr Bercow, who has been speaker since 2009, a leave of absence to attend the Glasgow service.
Lord Martin, a former Labour MP, died aged 72 earlier this month.
As Michael Martin, he was Speaker from 2000 to 2009. He resigned in the wake of the expenses scandal.
In a Commons tribute to Lord Martin last week, Mr Bercow said the former sheet metal worker was a "decent, hard-working unpretentious person" who "never forgot where he came from".
Speaker John Bercow to miss Prime Minister's Questions Prime Minister's Questions}