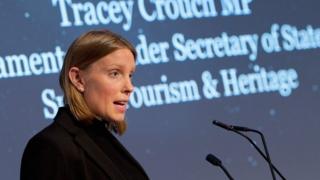 Sports minister Tracey Crouch has resigned over "delays" to a crackdown on maximum stakes for fixed-odds betting machines.
Chancellor Philip Hammond said in Monday's Budget that the cut in stakes from £100 to £2 would come into force in October 2019.
Ms Crouch said he had pushed back the date in an "unjustifiable" way and it could cost problem gamblers' lives.
She tweeted: "Politicians come and go but principles stay with us forever."
Speculation around Ms Crouch's resignation began after she failed to appear in the Commons earlier to answer an urgent question around the policy's timing.
But her boss, Culture Secretary Jeremy Wright, refused to say if she had resigned, after being put on the spot by Labour's deputy leader Tom Watson.
After Ms Crouch's resignation was confirmed, Mr Watson praised her "courageous and principled decision" and said Mr Wright "should be thoroughly ashamed" of prioritising "corporate interests over victims, profits over public health and greed over good".
Who is Tracey Crouch?
The 43-year-old MP has represented Chatham and Aylesford, in Kent, since 2010
She was promoted to the front bench as sports minister in 2015
She is known for her opposition to fox hunting and her love of football – she is a qualified FA coach
Grammar school educated at Folkestone School for Girls, she went on to get a degree in law and politics from Hull University
She had worked for various Tory MPs, including Michael Howard and David Davis before standing for election
She had her first child in 2016 and is thought to have been the first Tory minster to take maternity leave
In his Budget on Monday, the chancellor said the the change to fixed-odds stakes would come into force next October at the same time as changes to duty charged on gambling firms based abroad but operating in the UK.
Mr Wright said that coordinating the date of the two changes would mean the government would not be hit by a fall in tax revenue.
Campaigners for action noted that Ms Crouch had told an all party parliamentary group in September that the implementation would be in "the financial year starting April 2019".
Mr Watson told the Commons: "Everyone, both sides of the house was led to believe that the cut would take place in April 2019."
He said the delay would save the Treasury £900m and accused the government of "capitulating to the gambling industry".
MPs from all sides of the House joined in his criticism.
Later, former Tory leader Iain Duncan Smith raised the plan in the Commons when Chief Secretary to the Treasury Liz Truss was concluding the debate over the Budget.
He said there was an "issue with the start date" and it should be discussed as part of the Finance Bill later this month.
Ms Truss said: "We have brought the date forward for the [fixed-odds betting machines] by six months.
"I don't believe it is an issue for the Finance Bill, but I am certainly happy to discuss it with my honourable friend about what more we can do."
BBC chief political correspondent Vicki Young said a government u-turn had been expected, but after Ms Truss spoke to the Commons, "you heard some MPs muttering that that was not enough".
Labour has told the BBC that they will put down an amendment to the Finance Bill to try and bring in the changes next April.
Sports Minister Tracey Crouch resigns over 'delay' to betting crackdown}