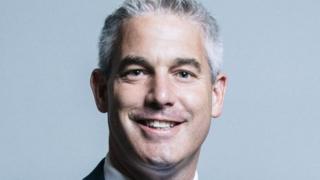 Stephen Barclay has been confirmed as the new Brexit Secretary as Theresa May seeks to fill posts in her cabinet.
The MP for North East Cambridgeshire and Leave supporter had been serving as a minister at the department for health and social care.
He replaces Dominic Raab, who resigned on Thursday over Mrs May's withdrawal agreement for Brexit.
The announcement comes after Amber Rudd was named the new work and pensions secretary.
Mr Barclay – a former director at Barclays Bank – has also held the posts of City minister and a whip at the Treasury.
BBC assistant political editor Norman Smith said he was not a "household name".
But he also described Mr Barclay as "ultra-loyal", having never rebelled against the government.
Stephen Barclay named new Brexit Secretary}