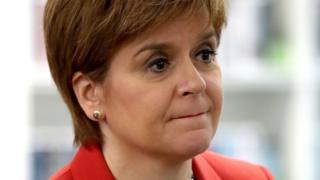 Nicola Sturgeon has described the prime minister's public appeal to get behind her Brexit agreement as a "desperate" attempt to justify a bad deal.
The first minister also said an EU statement, issued as the deal was signed off in Brussels, broke promises made to the fishing industry.
In a letter to the British public, Theresa May said the agreement heralded a brighter future for the UK.
The EU's 27 leaders approved the deal, after less than an hour's discussion.
In a letter to the nation Mrs May said leaving the EU next year would be "a moment of renewal and reconciliation for our whole country".
The 800-word message said the UK would "take back control" of laws and money which, it suggested, could be spent on the NHS.
Ms Sturgeon tweeted that "almost nothing in this desperate letter is true".
She said the UK Parliament should consider "better alternatives", such as remaining in the single market and customs union permanently – and she urged MPs to reject it.
She also highlighted a document published by the EU27 on Sunday which suggested that a future fishing deal "should build on, inter alia, existing reciprocal access and quota shares".
Ms Sturgeon said that could not be squared with promises made to Scotland's fishing industry.
The EU's Common Fisheries Policy and the access it gives other nations to UK waters is deeply unpopular with Scotland's fishermen.
In her letter to the nation the prime minister insists the deal will take the UK "out of the Common Fisheries Policy that has failed our coastal communities".
The Aberdeen South MP Ross Thomson, the only Scottish Tory who has so far said he will vote against the deal in the House of Commons, said the EU document was "worrying" and should be resisted in negotiations.
He told the BBC's Sunday Politics Scotland: "The arrangement that we have on fisheries has been devastating to fishing communities across Scotland and across the whole of the UK.
"It's in the interest of the EU to keep it going and they want to build on those existing arrangements, so to my mind that can only mean the continuation of some form of common fisheries policy.
"It may not be called that but if it looks like the CFP and behaves like the CFP, it is the CFP."
Sturgeon hits out at prime minister's 'desperate' EU appeal}