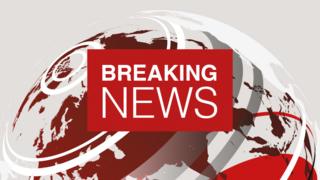 Two people on a motorcycle have carried out a suicide bomb attack on police headquarters in Surabaya, Indonesia, say local authorities.
Police officers were injured in the blast, which occurred at 08:50 local time (0150 GMT), but the extent of casualties was not immediately clear.
It comes one day after at least 13 people were killed in bomb attacks on churches in the city.
The Islamic State group said it was behind those attacks.
Authorities were due to provide more details about the latest attack at a briefing later on Monday.
"We can't be open up all details yet because we are still identifying victims at the scene and the crime scene is being handled," East Java police spokesman Frans Barung Mangera said in a briefing.
It was not yet clear whether the attacks were connected to deadly blasts carried out at churches in the same city on Sunday.
A mother and two daughters blew themselves up at a church, while the father and two sons targeted two others.
Surabaya: Suicide bombers attack Indonesia police headquarters