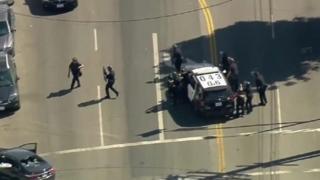 Los Angeles police have surrounded a supermarket where a suspect barricaded himself, with US media saying it is a possible hostage situation.
"There is still an active police incident at the #TraderJoes," LAPD police tweeted, urging the public to stay clear of the area.
The suspect is said to be armed. Live footage showed people running from the shop.
The suspect earlier fired shots after a police pursued the car he was driving.
Suspected gunman barricaded in LA shop