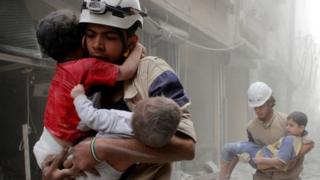 Israel has evacuated members of a Syrian civil defence group – said by media to be the White Helmets – from a war zone in the south of the country.
The Israel Defense Forces (IDF) said they had acted on a request from the US and European nations.
Some 800 people were evacuated to Jordan via the Israeli-occupied Golan Heights overnight, Israeli media say.
The White Helmets describe themselves as a volunteer workforce that acts to save people in Syria's war zones.
They say they are non-partisan but supporters of President Bashar al-Assad and his ally Russia, allege links to jihadist groups.
They were nominated for the 2016 Nobel Peace Prize.
The evacuated White Helmets had been working in an area controlled by the Syrian opposition in the south-west of the country and had been trapped by a government offensive.
The IDF said they had "completed a humanitarian effort to rescue members of a Syrian civil organisation and their families" saying there was an "immediate threat to their lives".
They said the civilians were transferred "through Israel" and "subsequently to a neighbouring country".
The IDF did not mention the White Helmets by name nor the country receiving the civilians.
But Jordan's official Petra news agency said the country had "authorised the United Nations to organise the passage of about 800 Syrian citizens through Jordan for resettlement in Western countries".
Jordan has reportedly agreed to give them safe passage to be resettled in the UK, Canada, and Germany.
The Syrian government began a major offensive in June to retake rebel-held areas in the Daraa and Quneitra areas.
A number of agreements have seen rebel forces transferred to rebel-held areas in the north of the country, with the Syrian military then moving in to take control.
The latest deal, agreed on Thursday, saw fighters and civilians evacuated from Quneitra province, which borders the Golan Heights.
Syria conflict: Israel evacuates 'White Helmets'