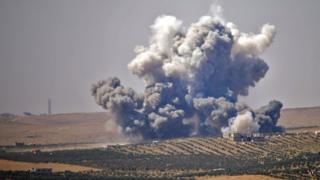 Syrian government and Russian warplanes are reportedly pounding rebel-held areas of south-west Syria, after rebels said talks to reach a truce had failed.
A monitoring group said there had been more than 600 air strikes and barrel bombings in Deraa province overnight.
The attacks intensified after rebels rejected the terms of a ceasefire proposed by the Russian military.
At least 320,000 people have fled their homes since the government launched an offensive in the region two weeks ago.
Many of the displaced are stranded in makeshift camps along the borders with Jordan and the Israeli-occupied Golan Heights. Both countries have refused to allow mass influxes of refugees, sparking fears of a humanitarian crisis.
Almost 150 civilians are also said to have been killed in the fighting.
Deraa and neighbouring province of Quneitra had been relatively calm for almost a year because of a "de-escalation" agreement brokered by the US and Jordan, which support the opposition, and Russia, a staunch ally of the government.
But Mr Assad set his sights on regaining full control of the south-west after defeating rebels in the Eastern Ghouta region outside Damascus in April.
The army and allied militias have made significant gains since launching the offensive in the region on 19 June with the support of Russian aircraft.
More than 30 rebel-held towns have negotiated individual surrender deals, but talks between rebel factions and Russian mediators about a wider ceasefire reportedly collapsed on Wednesday.
Russia had demanded that the rebels immediately hand over all their heavy weapons and accept the return of state institutions in return for guarantees of safety, rebel sources said. Rebel commanders wanted to hand over weapons in phases and to be given safe passage to rebel-held northern Syria, they added.
The Syrian and Russian air forces subsequently stepped up their bombardment, targeting Tafas in north-western Deraa and Saida near the Jordanian border, according to the UK-based Syrian Observatory for Human Rights.
Activists from the pro-opposition Horan Free Media group said a mother and her four children were killed in Saida.
An AFP news agency journalist in the city of Deraa reported that the air strikes on rebel-held southern districts were the most intense since the offensive began.
"The bombardment has not stopped for one moment since the announcement that the negotiations failed," a man who had fled to the outskirts of Deraa with his wife and four children told AFP.
"We are living here in the olive trees, afraid of everything, the shelling, the insects, with no water to drink or any medical services nearby. The situation is very difficult."
The UN Refugee Agency said on Thursday that more than 320,000 civilians had been displaced. About 60,000 are at camps close to the Nassib border crossing with Jordan, while 160,000 others are at camps and villages in Quneitra province, close to the occupied Golan Heights.
UN High Commissioner for Refugees Filippo Grandi described the conditions at the camps as "dire and insecure", with people lacking shelter, regular access to clean drinking water and healthcare. They are also subject to dusty desert winds and high temperatures of up to 45C (113F).
Local sources told the UN on Monday that 12 children, two women and one elderly man had died as a result of scorpion bites, dehydration and diseases transmitted through contaminated water.
Mr Grandi urged Jordan to open its border crossings to Syrians seeking safety.
"Given the immediate dangers, I am advocating for granting temporary refuge in Jordan to those in need of safety and for the international community to provide immediate and substantive support to Jordan, in a spirit of solidarity and responsibility sharing," he said.
"Thousands of innocent lives are going to be lost, once again, if urgent action is not taken," he warned.
Jordan's government rejected the request, saying it was the UN's responsibility to provide people with safe havens inside Syria.
The kingdom has also said its financial resources and infrastructure are already strained by hosting close to 1.3 million Syrians who have arrived since the civil war began in 2011, including 666,000 refugees registered with the UN.
Syria war: Warplanes pound south-west after truce talks fail}